Beware of Fraudulent Calls And Messages Posing as DigiNimbus – Important Notice!
Table of Contents Introduction
Beware of Fraudulent … 
Here are the key points … 
Impersonation:
False Survey:
Request for Screenshot:
Disclaimer:
Reporting:
Dear Valued Customers, At DigiNimbus, we strive to maintain the highest standards of integrity, transparency, and trust with our esteemed clients. It has come to our attention that some individuals are falsely claiming to represent our company and conducting fraudulent activities under the pretext of a survey in exchange for a monetary reward.
We would like to assure you that these calls are not made by any official representatives of DigiNimbus, and we take this matter very seriously. Our team is working diligently to identify and apprehend those responsible for these deceitful actions. We urge you to remain vigilant and exercise caution if you receive any such calls.

Here are the key points to note about this fraudulent scheme:
Impersonation:Fraudsters are making calls posing as representatives of DigiNimbus, claiming to be from our digital marketing company in Mohali. They may sound convincing and provide false information to gain your trust.
False Survey:  During the call, these scammers ask individuals to participate in a survey on behalf of DigiNimbus, and promise a reward of 250 rupees upon completion.
Request for Screenshot: After the survey, they ask participants to share a screenshot of the completed survey via email or phone. This is an attempt to obtain personal information and sensitive data from unsuspecting individuals.
Disclaimer: These fraudulent activities can lead to identity theft, financial fraud, and unauthorized access to your personal data. We want to remind everyone that DigiNimbus does not request sensitive information or financial details over the phone or through unsolicited emails.
Reporting: If you receive any suspicious calls or encounter such fraudulent activities, please report them to us immediately with screenshots at [CONNECT@DIGINIMBUS.IN] or call us or message us on whatsapp with screenshots at [+91 75080 50127]. Your cooperation in reporting these incidents will help us take necessary actions to protect our customers.
Here are the examples how fraudulent are messaging on our name –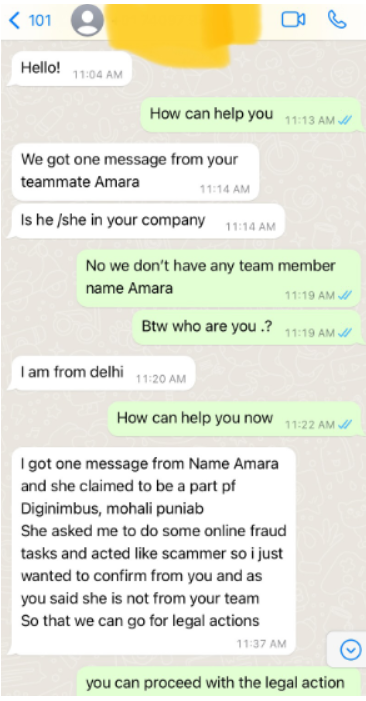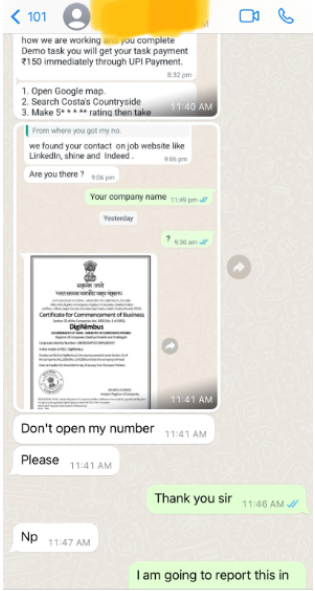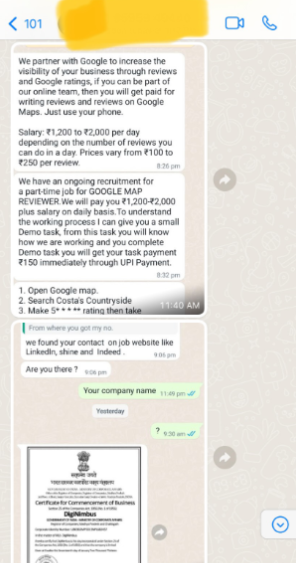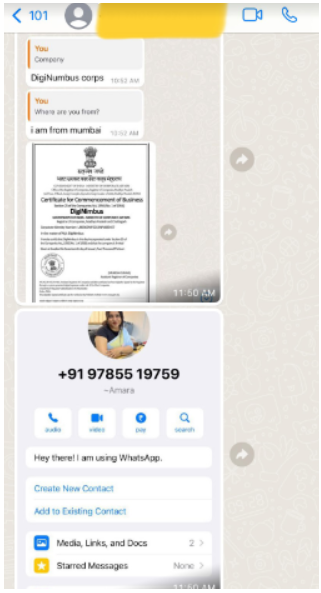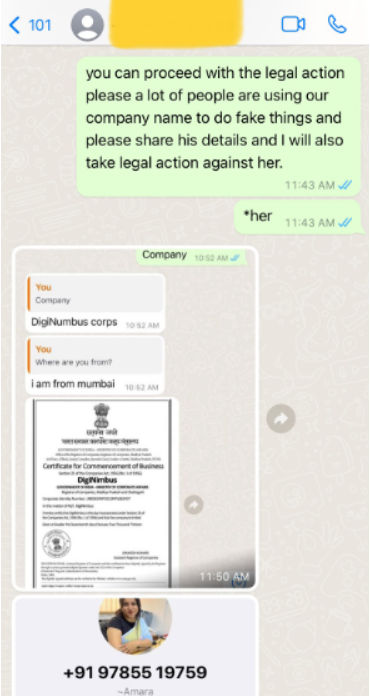 It is essential to exercise caution when sharing personal information or engaging with unknown entities claiming to be associated with any company. DigiNimbus will not be held responsible for any losses incurred due to interactions with these fraudulent callers.
We encourage everyone to stay vigilant and spread awareness about this scam to protect our valued customers and the wider community from falling victim to such fraudulent activities. Remember that DigiNimbus is committed to maintaining your trust and privacy, and we will never engage in such deceptive practices.
Thank you for your continued support and trust in DigiNimbus. We remain committed to providing you with genuine and reliable services.